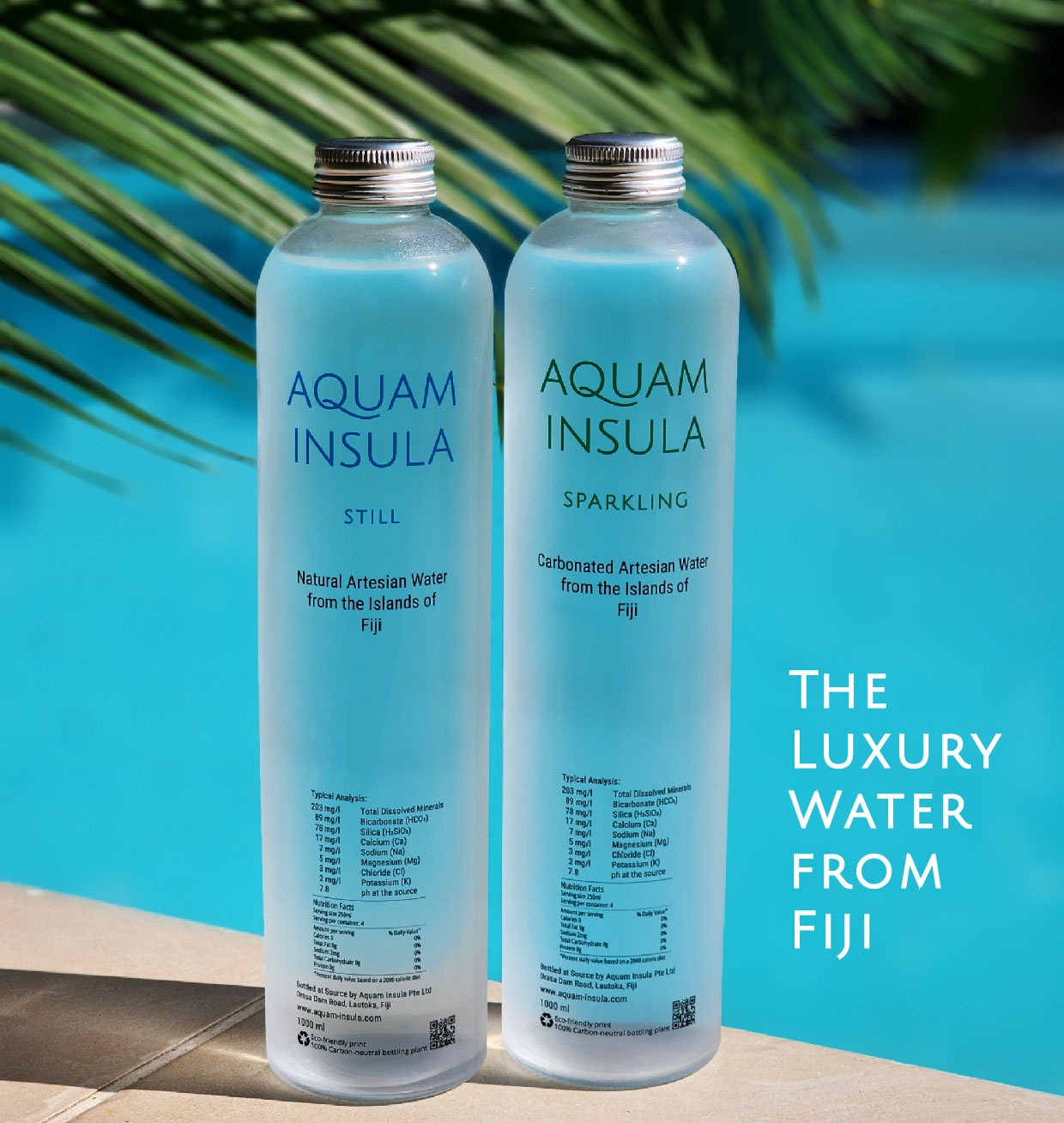 AQUAM INSULA – Pure, Natural Water from the Islands of Fiji
Welcome to AQUAM INSULA, where we take great pride in offering you water that is not only pure, natural, and smooth but also delivers a delightful taste experience—a remarkable gift from Mother Earth, enhanced with a touch of carbonization for a sparkling and refreshing sensation.
Our journey begins amidst the tropical rain of the high mountains of Viti Levu, Fiji. As the rain cascades through ancient lava rock, it embarks on a remarkable voyage, seeping deep into the aquifer, nourished by the interior of this volcanic island. This pristine water is carefully bottled at the source in transparent glass containers, ensuring its unparalleled purity remains untouched.
The elegance of our unique glass bottle design not only enhances the aesthetic appeal but also ensures a smooth and graceful flow of this exquisite water into your glass, ready for you to savor and enjoy.
Nestled within a picturesque forest, our source and state-of-the-art bottling plant embrace nature's beauty. Operating in harmony with our commitment to environmental sustainability, our bottling plant relies solely on solar energy, enabling us to achieve carbon neutrality. By harnessing the power of the sun, we demonstrate our dedication to preserving the natural environment and reducing our carbon footprint.
In our ongoing pursuit of sustainability, AQUAM INSULA water is delivered in crates crafted from locally sourced hardwood timber. This innovative approach allows us to embrace the principles of reuse and sustainability, as these crates can be utilized repeatedly, minimizing waste and preserving our precious natural resources.
At AQUAM INSULA, we believe that nature's gifts should be treasured and celebrated. Through our commitment to purity, sustainability, and captivating taste, we aim to deliver an unparalleled water experience, rooted in the beauty of Fiji's islands.